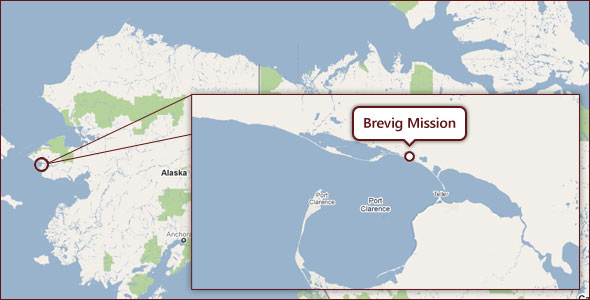 Brevig Mission is an Inupiaq Eskimo village of about 350 residents. It is located 65 miles northwest of Nome and 5 miles northwest of Teller at the mouth of Shelman Creek on Port Clarence.

Traditionally, the Inupiat in this area migrated in small groups, in search of good hunting and fishing. They traded and formed protective alliances with other area villages such as Whales, Little Diomede and King Island. These connections remain strong to this day.

A Norwegian Evangelical Lutheran Mission was constructed in the current site in 1900, at which time the village became known as Teller Mission. The name was later changed to Brevig Mission after Rev. T.L. Brevig, a pastor at the mission. In 1918 the Spanish Flu killed 82 of the 90 residents of Brevig Mission. It is thought the virus reached the village from men delivering supplies in Teller, who may have passed it to Brevig Mission residents picking up the goods.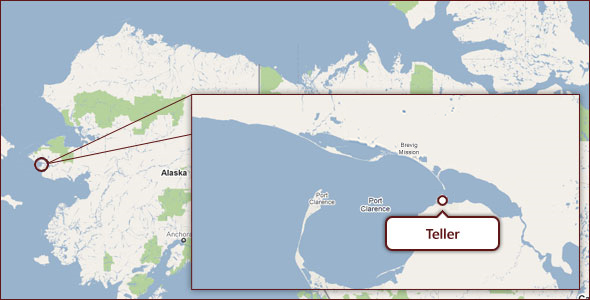 Teller is an Inupiaq Eskimo village of about 250. Located 72 miles northwest on the Nome/Teller road, it is the only village on the Seward Peninsula accessible by car. The road is only passable by car during the summer months. From Teller, Brevig Mission is accessible via a five-mile boat ride.

At the beginning of the 20th century the Bluestone Placer Mine was discovered fifteen miles south of Teller. At this time the population of Teller grew to about 5,000 people making it a regional trading center for area villages such as Diomede, Whales, Mary's Igloo and King Island.

Today, residents of both Brevig Mission and Teller continue living a subsistence lifestyle, hunting moose, reindeer, seal, walrus and beluga whale, as well as smaller game such as duck and ptarmigan. Fishing is a year round part of subsistence, whether on the sea or river in summer and fall or through the ice during the winter months. Because of their close proximity, these villages share a special link. They hunt and fish the same land, travel back and forth frequently and host community events and spirited competitions annually. The arts in both communities are an important tradition and source of income. Carving, sewing and beading traditions run through generations of family members.
VIEW WORK FROM BREVIG MISSION AND TELLER HERE.