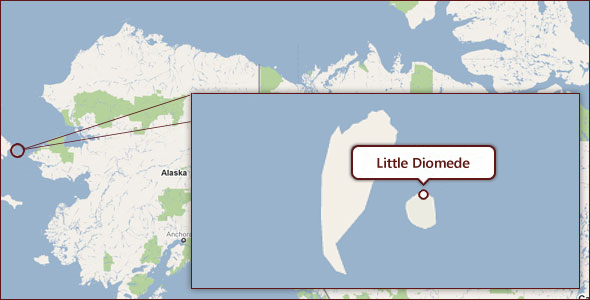 An Ingalikmiut Eskimo village located between Alaska's Seward Peninsula and Russia's Chukotka Peninsula, Little Diomede is the smaller of the two Diomede Islands. Big Diomede is a part of Russia. The two islands are only about two miles apart, but that small divide includes the U.S. and Russian border and the International Dateline.
Because of its remote location and rugged terrain, the village of Little Diomede is difficult to access. Mail is delivered year round to the village by helicopter. During the winter months, small passenger planes can land on a makeshift runway made up of a flat stretch of sea ice just outside the village.
The roughly 120 Little Diomede residents live largely off of the land, subsisting on animals such as whale, walrus, seal and polar bear. In addition to rendering the bulk of island residents' food, hunting provides walrus ivory that artists carve and sell. Skins and furs from the hunt provide material for clothing and sewing crafts. Income from selling carvings and sewing is vital in a community where there is virtually no industry. The few jobs are through local government and the school.
VIEW WORK FROM LITTLE DIOMEDE
HERE
.