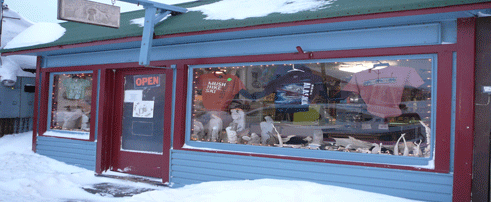 Maruskiya's has been home in Nome, AK for over 40 years. During this time, we have had the distinct privilege of working with Inupiaq, St. Lawrence Island Yupik, and Yup'ik Alaska Native artists. We buy each day from artists living in Nome and the surrounding villages-- everything from elegant jewelry to large sculpture vividly depicting culture, tradition and rural life through the lens of art.

We pride ourselves on being available to artists virtually 365 days a year. It's an important facet of how we operate and is a benefit for both the artists we work with and our clients. For Alaska Native artists living a traditional lifestyle in rural villages, basic goods are exorbitant and jobs are often sparse. Living a subsistence lifestyle is not only expensive, but it's also time-consuming; this makes maintaining a regular job difficult. The presence of a reliable, local location where an artist depend on bringing in work and walking out with money in hand helps (even if in a small way) to sustain their way of life.

Our local presence and proximity to artists renders an inventory that adds new pieces each day, evidenced by the quality, variety and breadth of our collection. Whether it's a small pair of hand-made earrings, an ornate walrus ivory carving, a woven basket, a skin sewn doll, or a large sculpture brought to life from a piece of old whalebone- if it's native art from Northwest Alaska you'll find it at Maruskiya's. If you are a serious collector, curious about The Real People of Northwest Alaska, or if you are simply looking for an authentic gift from a special part of Alaska, we hope you enjoy looking through our online gallery. We are confident you will be in awe of the work, just as we are each day.